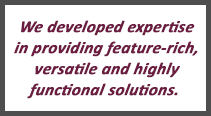 2018 was a good year. We exceeded our goals in most areas including financial, product innovation, quality standards and service delivery. Our team has continued to provide true value to our customers. We know that our customers want innovative, high quality products that are flexible, expandable, scalable and cost-effective. We also know that they want a responsive and personalized service that allows them to easily achieve their project goals. Having been in business for almost 30 years, we developed expertise in providing feature-rich, versatile and highly functional solutions that serve our customers' industry-specific needs. We offer local design engineering and a comprehensive suite of value-added assistance on both Coasts of the United States and specialized COTs integration services by Axiomtek Systems, our Eastern Regional Headquarters in Massachusetts. They have proven to provide our customers with all that they need from an industrial computer solution provider.
Our 2018 Highlights and Focuses
Innovation
We have listened to our customers and continued to stay atop of the ever-changing technology and market trends. In 2018, the Axiomtek USA team developed a new product line that begins with a versatile, rugged SMARC v2.0 system on module with enhanced security and i.MX 8M multi-core processors to support the growing demand for RISC-based products within the local North American region.
Engineering and Account Support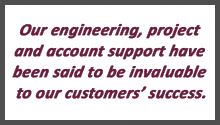 We truly believe that our customers are the experts in what they do – but we know that experts sometimes need help. Our engineering, project and account support have been said to be invaluable to our customers' success – so we added more experienced engineers including software and application engineers to ensure highly personalized service and enhanced expertise level. We expanded our customer service team to shorten response times and provide top-notch attention to our customers' requests.
Facility and Production Enhancements
We know that operational efficiency, up-to-date capital equipment and a stringent quality matrix translates to better value and improved customer satisfaction. In 2018, we continued our focus on these areas and implemented new procedures, invested in our equipment and facilities, and reorganized our production and RMA teams to improve our level of efficiency, product quality and service. Some of the key improvement areas are listed below:
We improved our burn-in testing room functionality and introduced a hipot tester.
We enhanced our production capability and increased integration flexibility with the implementation of specialized production cells.
We developed an aging inventory promotion procedure to reduce our aging inventory, where the report and analysis are processed monthly.
We offered a customized assembly process.
We achieved higher inventory turnover for cost savings that can be passed along to our customers.
We formed a new operation engineering team to closely connect our integration team with our project support engineers.
We reorganized the customer service team and added new members.
Axiomtek USA's 2018 revenue exceeded expectations and has allowed for better 2019 strategic positioning and reinvestment to improve our operation and customer satisfaction.

US Headquarters Design Center Enhancements
Our design center on both Coasts saw some changes in 2018. Our capabilities have expanded.
We added a 3D printer capability for faster prototyping of our customers' cutomized products.
We added an in-house mechanical engineer to design prototype enclosures.
We locally developed a RISC-based product and created its roadmap.
We hired an additional software engineer.
We extended our capabilities to support Yocto Linux or QNX OS on any RISC-based platforms.
Our Plans for 2019: Empower IoT Innovation
Deliver Solutions that Suit our Customers' Needs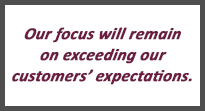 With the help of our expanding network of partners, we are enhancing our capabilities to deliver complete solutions to our customers and help empower their innovation.
Increased Expertise and Service Capabilities
We strive to constantly invest in our facilities and people – adding expertise and local resources to assist our customers. We plan to add more software, application and firmware engineers to our growing team.
Focus on Quality and Personalized Services
We will continue to meet stringent ISO quality standards on our facilities and processes. Our focus will remain on exceeding our customers' expectations.
Expand our Reach
We also plan to expand our global footprint with new offices, including one in Italy, to provide greater localized support in the areas.
In 2019, we plan to continue growing as a customer-centric company and achieving new goals in order to provide exceptional solutions and world-class services to our customers.
SCM180
-
Ultra-Low Power Consumption SMARC v2.0 Form Factor System on Module



Powered by Freescale i.MX8M Series SoC with Quad/Dual A53

One onboard LPDDR4 1GB 3200 Mbps for up to 4GB of system memory; onboard 8GB eMMC

Rich I/O options with one GbE LAN; two COM with TX/RX/RTS/CTS; two RX/TX; two CAN 2.0B; two MIPI CSI2; a choice of one 4-lane MIPI DSI or dual channel LVDS; and a choice of one HDMI 2.0 or DP 1.3

Wide operating temperature range of 0°C to +85°C (32°F to +185°F) or -40°C to +85°C (-40°F to +185°F)
PICO318
-
Compact, Feature-Rich Pico-ITX Embedded Board
Scalable CPU options with Intel® Pentium® Processor N4200 or Celeron® Processor N3350 onboard

One DDR3L SO-DIMM for up to 8GB of system memory

Rich I/O options with two GbE LANs, one RS232/422/485, one RS-232, two USB 3.0 and two USB 2.0

Expandable with one half-size PCIe Mini Card slot with mSATA support

Features one M.2 Key B (SATA, USB 2.0, PCIe x2 optional) in 22 x 42 or 30 x 42
High performance NVIDIA® Jetson™ TX2 module with Pascal™, 256 CUDA cores GPU

IP67-rated enclosure with M12-lockable I/Os and four N-jack antenna openings with water-proof design

Rich I/O options including one IEEE 802.3at Gigabit PoE LAN port (30W), one C3 USB 2.0 port, one M12 X-coded Gigabit LAN port and one C3 HDMI port

Wide operating temperature range of -30°C to +60°C (-22°F to +140°F)
tBOX500-510-FL
-
High Performance Transportation-Certified Embedded System
CE (Class A), FCC, EN 50155, EN 50121, EN 45545-2 and IEC 60945 certified; E-Mark, ISO 7637-2 and DNV 2.4 compliant

Scalable CPU options with 7th Generation Intel® Core™ i7/i5/i3 or Celeron® Processors

Expandable with two I/O module slots and a wide selection of value-added modules (COM/LAN/DIO/PoE/CAN/BNC)

Wide operating temperature range of -40°C to +70°C (-40°F to +158°F) with W.T. SSD