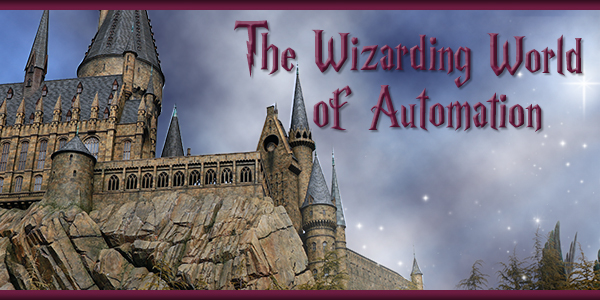 The Wizarding World of Harry Potter theme parks in California and Florida are wowing guests with rides that feature cutting edge technology that combines practical effects, motion simulation and 3D technology for an unheard of level of immersion. These rides are so advanced that they can make guests feel like they're really flying over Hogwarts, being chased by dragons or even traversing the endless tunnels below Gringotts Bank.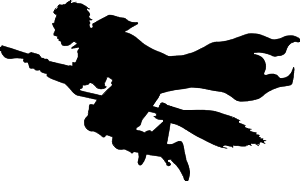 The real magic behind the boy wizard's theme park rides are the PC-based controllers and human-machine interface (HMI) touch panel PCs used to reliably control all aspects of the Harry Potter experience. Instead of operating like a standard rollercoaster, these rides rely on the use of automated robotic arms to move audience members around while also interacting with advanced animatronic models, expansive set designs, and projection surfaces with high resolution images at precise times to create a full immersive experience for every park guest.
Besides being used in theme park rides, PC-based controllers and touch panel PCs can be used to control automated robotic arms for automation industry applications such as monitoring and managing production and assembly line operations. Axiomtek's Industrial PC (IPC) product line is designed to efficiently manage robotic arms used for factory assembly lines – assisting with tasks that are difficult for human workers to perform efficiently including machine-precise assembly, heavy lifting and more. Axiomtek's embedded computer systems, DIN-rail embedded controllers, EtherCAT Master Controllers, and touch panel PCs are all designed to work in the automation industry to help enhance productivity, reduce human errors, and provide our customers with a shorter time to market.
Our EtherCAT Master Controllers feature high performance CPU options, EtherCAT and LAN ports and many more useful features. These controllers support Acontis EtherCAT Master Stack and are verified with IntervalZero EtherCAT Master Stack and Solution KingStarIO32 for interoperability. The systems allow for effective remote management; simplified cabling; and cable redundancy to support star, line and tree network topologies to ensure smooth operations and prevent downtime in the event of a cable breaking. Axiomtek's rugged EtherCAT Master Controllers are perfectly suited for use in factory automation applications that require a high degree of reliability and expandability.
Axiomtek's rBOX and eBOX product lines can be integrated into a variety of automation industry applications with features including high performance CPUs, wireless connectivity options, wide operating temperature ranges, and wide voltage input ranges. The eBOX products are designed to manage operations and work with sensors and actuators, detecting anomalies, and reporting production statuses. With its impressive communications abilities, Axiomtek's rBOX products can be used in receiving and supplier management systems to manage orders and inventory – making sure that any goals set by any operations based on an inventory control concept (e.g., KANBAN, Just-in-Time, etc.) can be achieved with ease.
The ICO310 features scalable CPU options for high performance/low power consumption, wireless communications options for 3G/4G/GPRS/GPS/Wi-Fi, AXView 2.0 intelligent remote monitoring and management software for industrial IoT applications, and the Power over Ethernet Powered Device (PoE PD) function for saving on cabling costs and reducing deployment time. The ICO310 is designed to capture operational data in factory automation environments and transfer it to the cloud or a data center for analysis.
Axiomtek's industrial touch panel PC products offer features for HMI use in controlling automation assembly line operations and processes. Key features includes options for resistive or projected capacitive touchscreens, enhanced graphical display, wireless communication options, as well as water/dust-proof and corrosion-resistant designs for increased reliability in hazardous environments. Axiomtek also offers a variety of touch panel PC options including light, heavy-duty, stainless steel and more for different environments that require human involvement.
Product Showcase: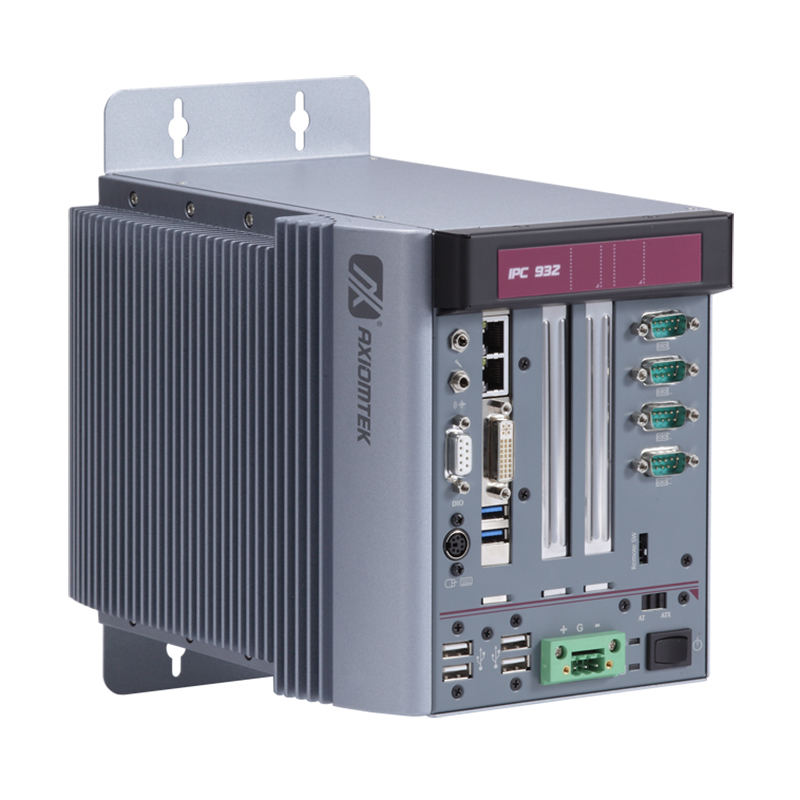 IPC932-230-FL-ECM
- High performance 4th Generation Intel® Core™ i7/i5/i3 and Celeron® processors
- Enhanced operational efficiency with one Gigabit LAN port and one EtherCAT port for fast and reliable communication between devices
- Verified with IntervalZero EtherCAT Master Solution KingStarIO32 for interoperability
- Wide operating temperature range -10°C to +50°C for operational stability in rugged environments
eBOX626-853-FL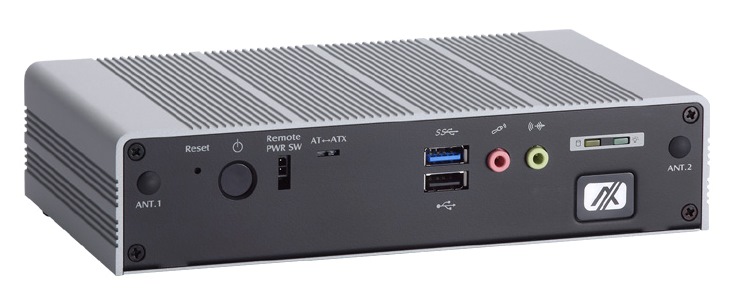 - High performance Intel® Celeron® quad core N3150 processor
- Dual PCI Express Mini Card slots (WLAN/WWAN/mSATA modules) for great customization options
- Wide operating temperature range -20°C to +60°C for operational stability in rugged environments
- Flexible power options with wide voltage range 9V-36V DC-in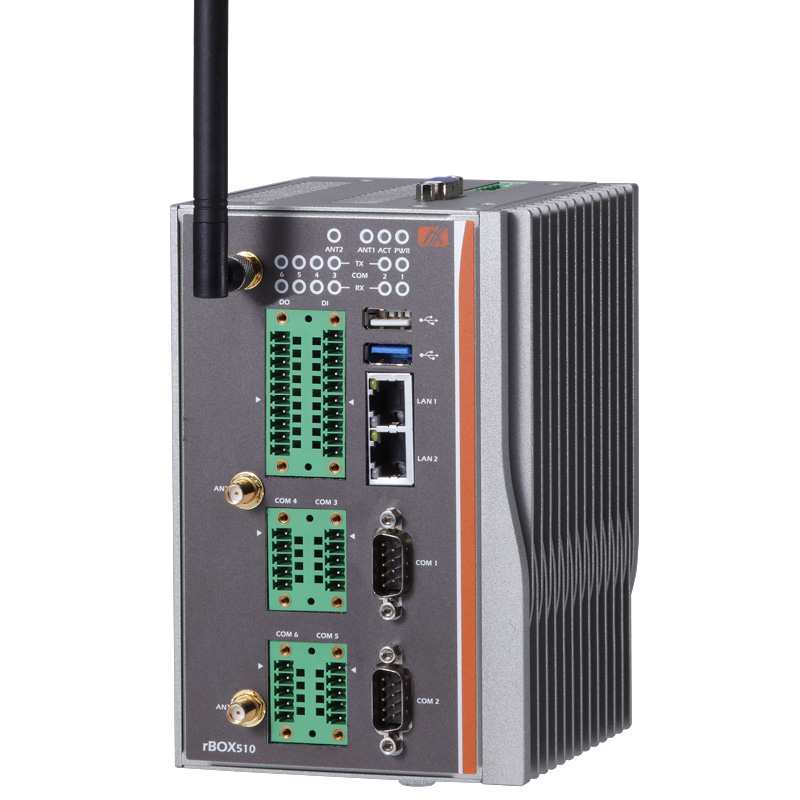 rBOX510-6COM
- Low power consumption Intel® Atom™ E3827 processor
- Supports AXView 2.0 intelligent remote monitoring software solution for IIoT applications
- Extended operating temperature range of -40°C to +70°C for operational stability in rugged environments
- Four isolated RS-232/422/485 COM ports, two RS-232/422/485 COM ports and two isolated Gigabit Ethernet ports for reliable operation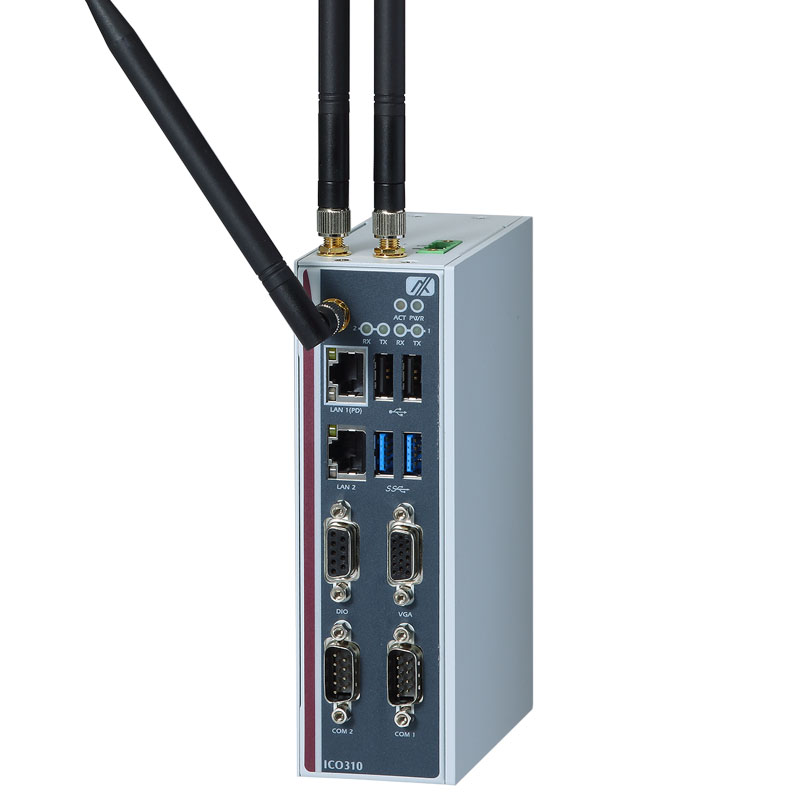 ICO310
- High performance Intel® Celeron® quad core N3160 or N3060 processors with DDR3L SO-DIMM of up to 8 GB
- Two isolated Gigabit Ethernet ports and 2 RS-232/422/485 ports for reliable operation
- Cost effective power source options with less cabling through the optional PoE PD port
- Wireless communication capabilities with 3G/4G/GPS/GPRS/Wi-Fi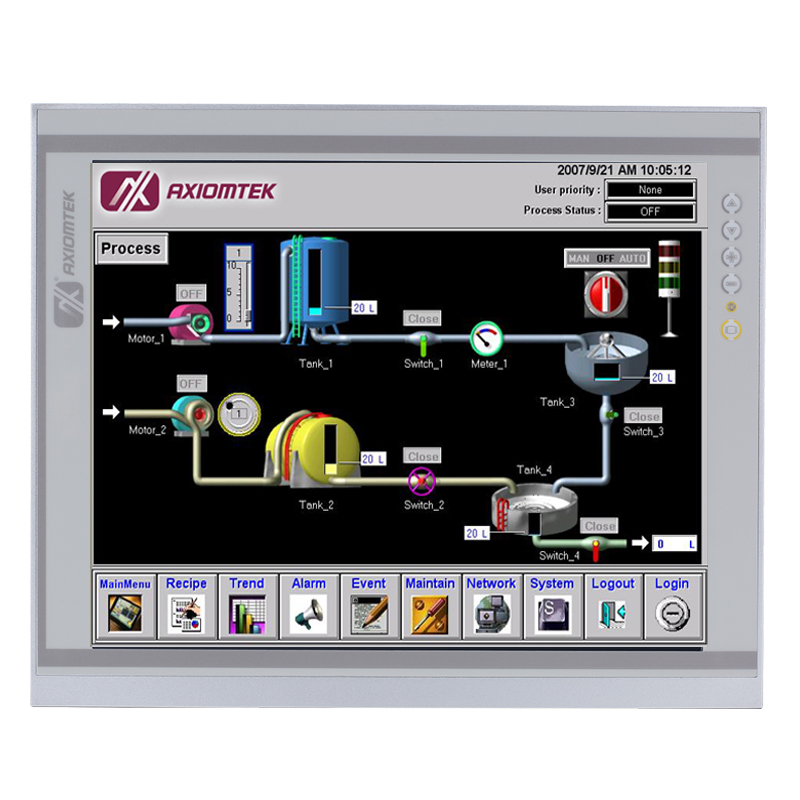 P1177E-842
- High performance Intel® Celeron® J1900 quad core processor
- SXGA TFT 5-wire resistive touch LCD screen
- IP65 (NEMA4) rated water/dust-proof front bezel
- Expandable PCI and PCI Express mini card (with SIM) slots for great communications options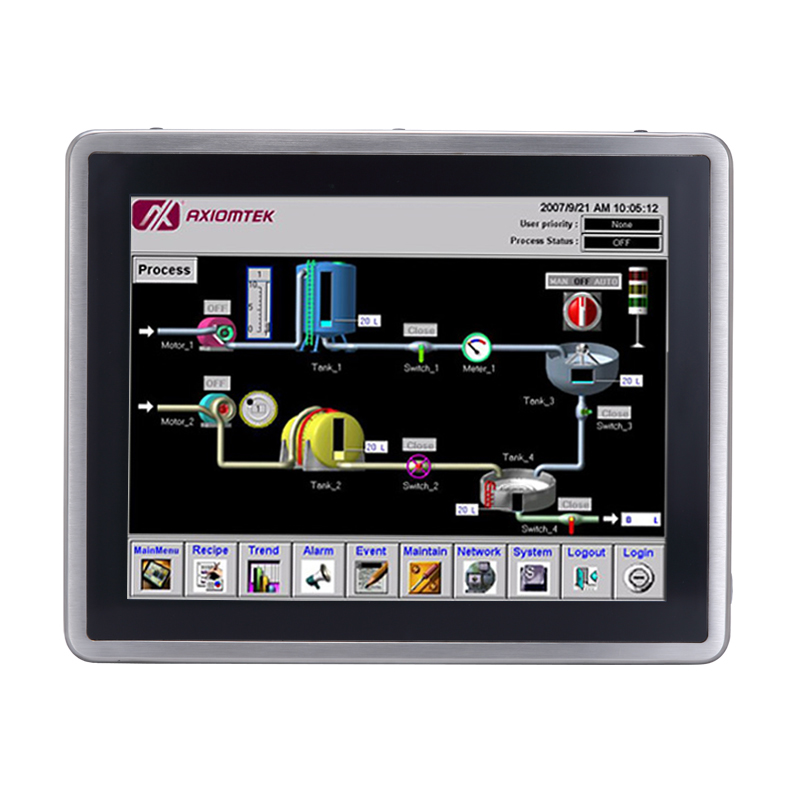 GOT815-834
- Low power consumption Intel® Atom™ E3827 processor
- Fanless touch panel PC with projected-capacitive (or flat resistive) touch
- IP66/IP69K (NEMA4X) rated water/dust/corrosion-proof design and grade 316 stainless steel full enclosure to withstand the challenges from operations in harsh environments
- Flexible power options with wide range 12V-36V DC-in